Our campsite activities on the banks of the Dordogne river
In our family campsite, Le Capeyrou, we offer activities that will delight young and old alike.
If you are ready to embark on an adventure in the heart of the Périgord Noir then don't wait any longer and book your stay in our campsite on the banks of the Dordogne river!
Outdoor activities at the campsite
Our campsite is nestled in the heart of the Dordogne valley, at the gateway to the charming village of Beynac-et-Cazenac.
Our team offers you outdoor sports activities: swings, a spiderweb for climbing specialists, large green spaces for those who prefer to run, jump and roll in the grass…
The campsite is on the banks of the Dordogne river. The perfect place to build dams and rafts and imagine incredible adventures with pirates, hidden islands and buried treasures…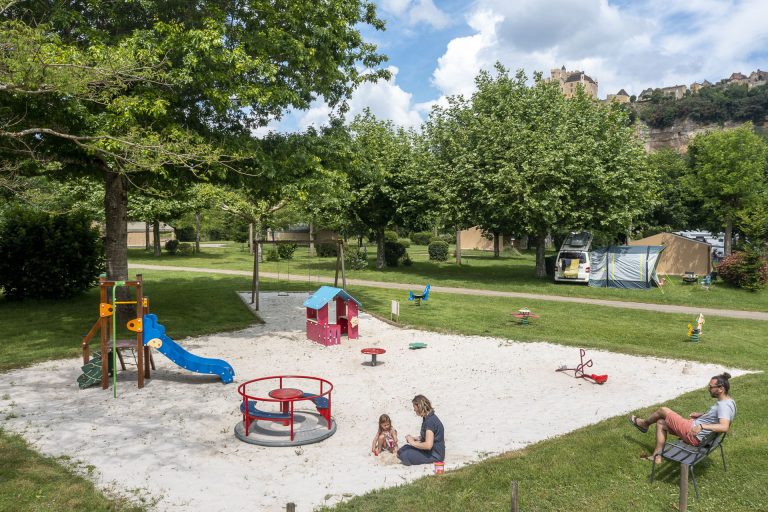 Our campsite on the banks of the Dordogne has  activities for all ages
Our campsite is designed to accommodate families as comfortably as possible. We offer a wide range of activities adapted to all ages: the playground for 0 to 6 years old, a football pitch and volleyball for older children…
The petanque court and the ping-pong tables can be shared with the family. Not forgetting our superb pool which everyone will love!
Our campsite on the banks of the Dordogne is located at the entrance to Beynac-et-Cazenac. You can walk to all the shops in the village and enjoy lovely walks around the castle and along the banks of the Dordogne.
And if you are looking for adventurous activities during your holidays, we have some surprises in store for you:
hot-air balloon trips,
bike rides,
rock climbing,
and our most popular activity: canoeing.
Do not hesitate to contact us! We can offer lots of advice to ensure your holiday is a real natural and diversified adventure in the Périgord Noir.