Less than 10 km from your campsite Le Capeyrou, you can discover one of the most beautiful bastides of the Dordogne: Domme.
A royal bastide to visit during your stay in our campsite near Domme
A real fortified town in the Middle Ages, Domme is today a witness to the technical architectural prowess of that era. Erected on the bar – the rocky outcrop which dominates the Dordogne river at over 150 meters high – Domme houses within its ramparts a royal bastide and many squares.
On your own or with a guide, hop on the little tourist train that will take you through the meandering streets of Domme. At the Place de la Halle, the historic heart of this charming fortified village, you can discover the specialities of the Périgord Noir at the local producers' market. If you are fond of folklore, you can marvel at the superb collections of the Museum of Arts and Popular Traditions. Domme is definitely worth a visit during your holiday in our campsite nearby.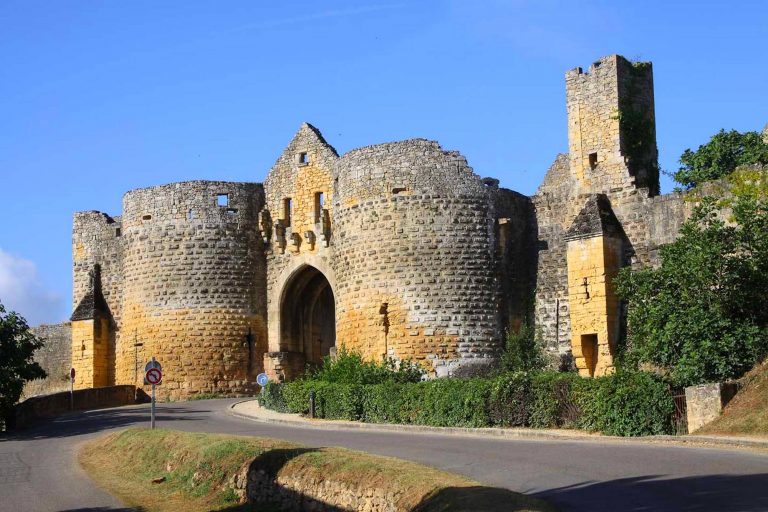 A Templar treasure
Arriving in Domme, one of the Most Beautiful Villages in France from Vitrac, you will be greeted by a monumental entrance, the Porte des Tours. It is the living testimony of Domme's incredible past. This door of the Towers was used as a prison between 1307 and 1318. 70 Knights Templar were held there. During your visit, approach the imposing walls of this building, you will discover a priceless treasure for history.
If you like speleology and potholing, you will enjoy your stay in our campsite near Domme. In 1912, a natural cave 20 meters deep was discovered under the village. It is open to visitors and you can wander through several chambers and return to the surface via a panoramic lift installed on the cliffside.
Perched on the cliffs, Domme is one of the best viewpoints in the region to admire the Dordogne valley, the Château de Beynac and the village of La Roque-Gageac.