During your holiday at our campsite near La Roque-Gageac, we recommend a visit to one of the Most Veautiful Villages in France, located only 4 km from your pitch.
One of the Most Beautiful Villages in France
La Roque-Gageac is classified as one of the Most Beautiful Villages in France, and this picturesque village is only a few kilometres from our campsite – Le Capeyrou. It is also accessible by bike and even on foot, via paths through the countryside
By bike or on foot, we invite you to wander through the picturesque streets of La Roque-Gageac and discover its flourishing commercial past. La Roque-Gageac, on the banks of the Dordogne river, developed its economic activity thanks to the river.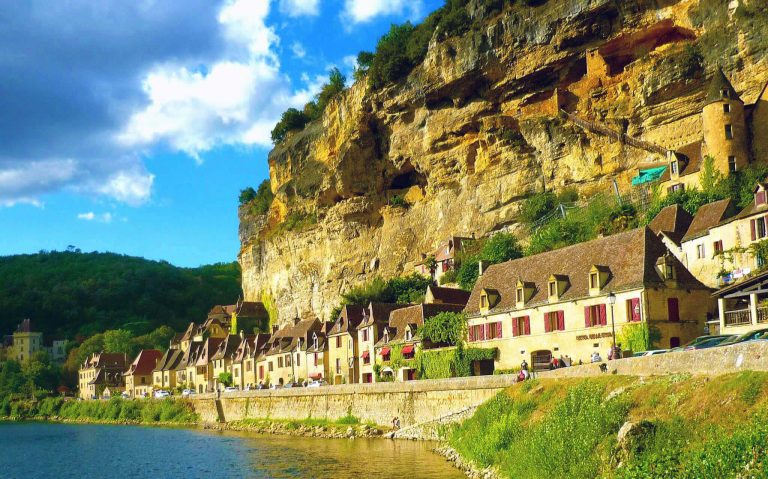 You can also admire the famous "gabarres" – flat-bottomed boats typical of  regions that have many rivers. In the past, these boats were used to transport goods.
Did you know ?
Most of these boats were used only to travel down the river, as they were sold on arrival as firewood!
An amazing and exquisite village
This village is famous for its Mediterranean microclimate due to its geographical location: nestled between the cliff and the Dordogne river. Due to this unique climate La Roque-Gageac is home to an amazing exotic garden. You can visit this unusual place and discover mango plants, palm trees, fig trees… So many colours and smells that will amaze your children!
If you love castles and history, you will adore the fabulous architectural remains preserved at La Roque-Gageac; its fortress and the Tarde manor house so famous during the Renaissance.
As you can see, this is one of the places to visit in the region during your stay at our campsite near La Roque-Gageac.