On holiday in the Périgord Noir, are you looking for an exceptional place to discover with your family? At the campsite, Le Capeyrou, we suggest you spend a day at the Château des Milandes.
The castle and its listed gardens
Built in 1489, this castle brilliantly represents the technical and aesthetic prowess of Renaissance architecture. This magnificent historic building is situated in the heart of a wooded park overlooking the Dordogne. Around the castle, you will be able to admire one of the most beautiful French gardens, registered as a Historic Monument.
The world-famous Château des Milandes has been renowned since 2012 as a place that pays tribute to an illustrious historical figure: Josephine Baker. This famous woman of the 20th century was a regular resident of the Château des Milandes.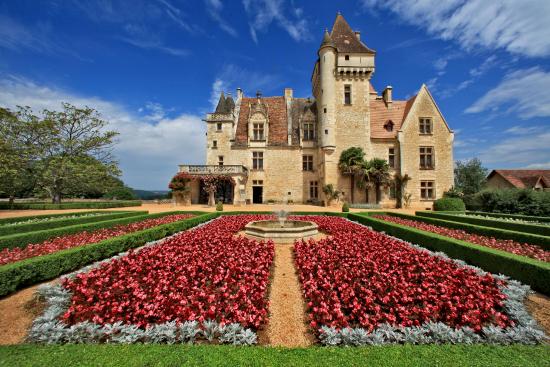 Activities at the Château des Milandes
This place, which is not to be missed in the Périgord Noir, is greatly appreciated by children, thanks to the many activities that are organised. This estate is known for its beautiful collection of exotic birds. You and your children can take part in feeding the birds or spend a few hours in the aviaries.
Falconry was one of the favourite activities of the lords of the Château des Milandes. Accompanied by a guide, your children, dressed as falconers, will be able to discover the fascinating world of birds of prey and handle the equipment used for this activity.
To really turn your children's day into an unforgettable one – sign them up for the musketeer workshop at the Château des Milandes: the Lord of Caumont-la-Force will give them an incredible fencing lesson!
This magnificent Renaissance castle is really worth a visit!
For more information, please contact us. Our team will recommend the best tourist attractions to go and see near our Le Capreyrou campsite.